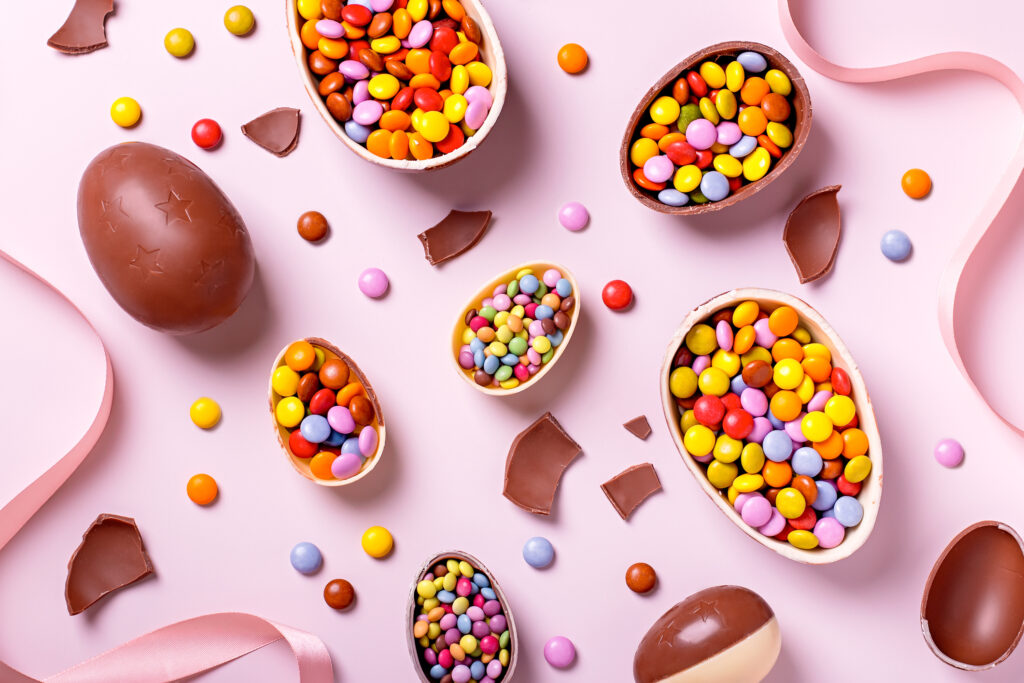 Looking back at the time when Easter Holiday started, the celebrations didn't feature candies or chocolate. Today, it would be almost impossible to think about Easter without picturing delicious candies and chocolate in Philadelphia.
While brand new, creative, and scintillating Easter-themed candies emerge every year, some favorite classics will always be on the shelves. The holiday would be bland without some of your favorite chocolate in Philadelphia.
Easter Candy and Treats
Bright, glittering baskets have become a universal trademark for the Easter holiday celebrations. It's definitely a big prize for teens and tweens who feel they've finally outgrown the classic Easter egg hunt. Some people load the baskets with items that welcome spring, but others are happier to with a basket teeming with candy and chocolate in Philadelphia.
What's better for this holiday than having your gift basket filled to the brim with your favorite chocolate in Philadelphia? Think about the jelly beans and peeps. But if you are honest, you will agree that the bunny is "a thing" for the Easter holiday. Furthermore, there isn't a substitute for the feeling when you dig your teeth into the ears of a high-quality bunny in Philadelphia.
Peanut butter chocolate eggs take the lead as the most cherished candy for a special Easter holiday treat. But Peeps are still lagging behind Jelly beans and bunnies.
Whether you are smitten by coconut cream eggs, large fudge eggs, peanut butter eggs, strawberry eggs, or the large vanilla buttercream eggs, Stutz has it all. With unique pear-cranberry centers, these eggs are made to perfection with a secret crunch that leaves you craving for more. But if you want something more different but still lovely, try the vanilla marshmallow eggs or go with caramel marshmallow eggs.
Easter Hollow Chocolate Molds
Hollow milk chocolate bunny comes with the classic taste you all love. It's a fun gamified shape that wins a top spot for must-haves in your gift basket. Both adults and children have a soft spot for this delicious chocolate in Philadelphia. It makes a perfect gift for the holidays as well as egg-hunt festivities in Philadelphia.
The fun aspect of eating a hollow treat lies in the risk of collapsing it when bitten inappropriately. It makes the Easter celebrations in Philadelphia even more exciting. On the other hand, making great hollow chocolate in Philadelphia calls for skill, perfection, patience, and experience.
If this is on your bucket list, Stutz has a wide variety of rich and creamy hollow chocolate in Philadelphia to brighten up your Easter season. From hollow big ear rabbits to the yummy white molds, you can never go wrong with these.
Easter Solid Chocolate Molds
This is a tasty solid bunny that is extra-sweet with a powerful milk chocolate flavor to balance it out. When you have a good, solid chocolate in Philadelphia, you can't eat it all in a single day. You want to have it stimulate your taste buds for the entire holiday season.
From bunnies to chocolate lambs and hens, you can choose your treat in a variety of shapes and sizes. And don't worry about leftovers; you can always melt these solid molds to make a special holiday treat for your loved ones.
Easter Best Sellers
Chocolate bunnies are definitely the centerpiece of most Easter baskets. Simply put, these bunnies are scintillating and adorable. Munching at least one chocolate in Philadelphia should be the least treat for this holiday. The feeling you get from devouring it piece by piece is out of this world. In fact, no child should ever miss this opportunity. It's memorable.
If you are looking for mouth-watering holiday candy and chocolate in Philadelphia but don't like anything that seems like clumpy sugar, you should get the Easter carrots. Try to forget the bunnies for a moment and grab these carrots.
Easter holiday wouldn't be what it ought to be without gift baskets. And a gift box without chocolate and candy would seem out of place. There are endless options for your gift box, from the chocolate pretzel gift box, caramel pecan patties, to caramel cashew patties; your basket will be brimming with delicacies. And if you want to go with the flow, try some chocolate toasted marshmallows for a colorful, unforgettable treat of chocolate in Philadelphia.
Come Visit Us!
The Easter holiday is finally here. Ordering your favorite chocolate in Philadelphia is a great way to prepare for a colorful and memorable holiday. Do you want to make sure your Easter basket is overflowing with mouth-watering chocolate in Philadelphia? Stutz Candy never disappoints!
Browse our collection and experience great work-ethic and outstanding customer service when filling up your Easter basket with top-quality chocolate in Philadelphia. Visit Stutz Candy today!