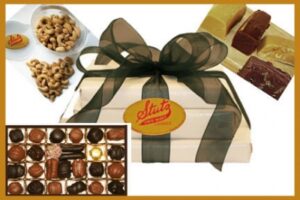 It's usually pretty easy to shop for the people in our lives. We know what they like and dislike, and when all else fails, there's the Amazon wish list.
But when you run a business, holiday shopping can be somewhat trickier. Are you struggling with what to put in your corporate gift baskets, Bucks County business owners? Why not go with candy and handmade chocolate from Stutz?
We help sweeten your business relationships by offering a wide variety of chocolates, candies and treats that make perfect holiday gifts for businesses. Add a personal tough to your order by sending personalized chocolate business cards inscribed with a company name and logo! We even offer a corporate giving program to help businesses receive quantity discounts on their orders! Place your order before November 20th for a 5% early booking discount.
Why Stutz Candy is a great holiday gift
You can't go wrong with candy. It's casual, yet thoughtful. It doesn't take up a lot of room, and it tends to last.
Some corporate gifts end up becoming the boss' gift. But candy is something the whole office can share, meaning you'll look good in the eyes of the entire staff.
A candy gift basket is versatile. You can send fancy, sophisticated sweets or comfort food candies that remind your clients of their childhood.
Candy will help you stand out and keep you top-of-mind. This is particularly important at the holidays, when your clients are thinking about their budget for the next year.
Candy is affordable, and a great way to make sure you reach out to all the clients you want to remember without having to spend too much.
Are you struggling to fill your corporate gift baskets? Bucks County businesses know they can count on Stutz, which has been making delicious chocolates and other treats for five generations.
In addition to our gift baskets, we offer a party dish of assorted chocolates, as well various holiday-themed treats.
Let us help sweeten your relationships with clients with our gift baskets this holiday season. We can even craft a personalized chocolate business card with your company name and logo. It's a great way to thank clients and co-workers, and to make sure customers remember you.
Stutz also offers corporate partners the chance to take part in our quantity program, which offers discounts as well as a five percent early booking allowance on holiday orders placed before November 20 of this year.
New customers who place orders past this date will get a five percent new customer discount in addition to the quality discount.
Contact Stutz to find out more, and be sure to browse our online store to find the perfect gift basket for your company's clients.