Cue up the Pomp and Circumstance – it's time to celebrate the class of 2021! Is someone in your family or group of friends among this year's graduating class? You will want to find a way to say you are proud of them and recognize their achievement. How about a congratulation gift box or basket from the best sweets shop in Pennsylvania, Stutz Candy? Shop at one of our stores or order online. Your graduate will love one of these sweet baskets from our large selection. Here are some choices from our best sellers selection.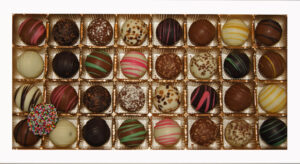 Best Sellers
Longtime residents know that Stutz is the place to go for great candy in Pennsylvania. The best sellers selection is a good place to start if you can't decide which of these delicacies your graduate would prefer. These are just a few of our best sellers.
Chocolate Toasted Coconut Jumbo Marshmallows Who can resist this combination of of Milk and Dark Chocolates mixed with toasted Coconut and then used to coat Vanilla Marshmallows? This is a special gift for a special graduate. We make the dark and milk separately to enhance the flavor.
12 Pc Gourmet Pretzel Gift Box There are seven varieties included in this outstanding pretzel combination box. Dark Chocolate Raspberry, Dark Chocolate striped, and White with peanut butter stripes just to mention a few are included in this selection. Always a favorite in the best sellers category.
Chocolate Caramel Cashew Patties These delicious treats are from a family recipe. Cashews are added to Caramel and Chocolate and made into patties. Give this one a try and it just might become your favorite.
Chocolate Jumbo Marshmallows This delicacy is a tried and true favorite every year. A simple, but mouth watering treat. Jumbo marshmallows are covered with Semi Sweet Dark Chocolate and Creamy Milk.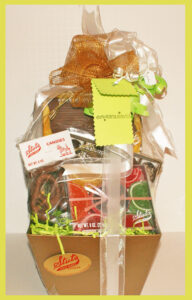 Gift Baskets
The Congratulations Gift Basket
A great way to let your graduate know that you are proud of such a outstanding achievement is this wonderful gift basket. A nicely arranged basket filled with a 5oz Solid Milk Chocolate Congratulation Card, 8oz Dark Chocolate Sea Salk Caramels, 7.25oz Gourmet Truffles, 8oz Bag of Milk Chocolate Covered Pretzels, and 12oz Fruit Slices. You can't go wrong with that selection!
The Thinking of You Basket
Looking for something else in a gift basket. Check out the Thinking of You Basket. A 6oz Milk and Dark Chocolate Assortment with Solid Milk Chocolate Card. 7 oz Assorted Gourmet Truffles are added and 7oz assorted Sea Salt Caramels. 8oz Milk Chocolate Coconut Clusters and a 8oz Container of Salted Mixed Nuts add variety to this package. An 8oz Bag of Milk Chocolate Covered Pretzels rounds out this scrumptious gift basket.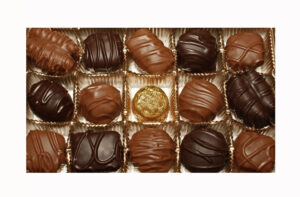 Boxed Chocolates, Nuts, Chews, and Fudge
Assorted Chocolate Covered Candy, Nuts and Fruits A wide selection of chocolates , nuts ,and fruits are included in this variety box. You can choose between a mix of milk and dark chocolate covered candies or all one type. you can also elect to go with an all nut assortment or a fruit and nut selection if that tickles your fancy.
Chocolate and Vanilla Fudge These treats are made from our original recipe. There are four flavors to choose from which makes it a hard decision considering they are all so tasty. You really can't make a bad choice here. During the summer months, we expand the selection to ten flavors.
Gummies and Jelly Candies If you prefer fruity flavored candies, we have you covered there also. There is a wide selection available at our Hatboro, Warrington, and Ship Bottom locations. You can also order these favorites online from the comfort of your home.
Salt Water Taffy When you think of summer vacation down the shore, Salt Water Taffy always enters the conversation. Did you know that no salt water is used in the making of Salt Water Taffy? Our stores in Bucks, Montgomery, and Ocean Counties carry the finest Salt Water Taffy.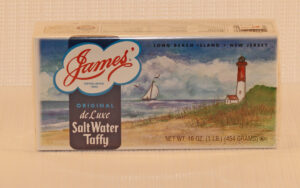 Don't forget Father's Day, which also is on the way. Look over our wide selection for a gift for that special dad in your life. Stutz Candy has been a premier candy shop in Pennsylvania since 1938. Our candies are home made from our own family recipe and we remain a family-owned business to this day. Visit any of our stores and one of our helpful staff members will be happy to assist you in finding the perfect gift. You can also order online at stutzcandy.com from the convenience of your home.