Just the thought of your mother makes you feel loved. Words alone are not enough to describe how much you love and appreciate her.
At Stutz Candy, we understand just how special moms are, and that's why we've come up with a wide range of offers this Mother's Day to help you show your appreciation. How better to express love to your mom than with the best chocolate in Philadelphia? With over 83 years of experience in creating world-class candy, fudges and chocolate in Philadelphia, Stutz Candy has mastered the art of making not only yummy but health-conscious treats.
Other than its wonderful taste, chocolate has some great health benefits. A study conducted by scientists at Harvard Medical School suggested that eating a chocolate serving every day reduces the risk of Alzheimer's disease. Other studies show that chocolate improves mood, blood flow and reduces blood pressure.
This Mother's Day, we have combined the best treats and chocolate in Philadelphia that are guaranteed to make your mom feel very special and appreciated.
The Mom Basket
This lovely basket is a great way to express gratitude to your mom. It contains a variety of the sweetest treats and the most irresistible chocolate in Philadelphia. Just imagine all these goodies in one basket just for her:
• 5oz solid milk chocolate mom card
• 8oz dark chocolate vanilla buttercreams
• 7oz gourmet truffles
• 7oz milk chocolate sea salt caramels
• 8oz dark chocolate nonpareils
• 8oz bag of milk chocolate covered pretzels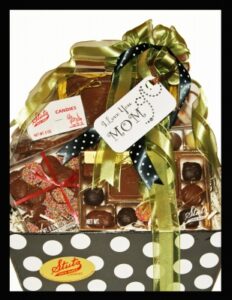 The Mom Gift Basket
Another great way to make your mom feel special is with this great offer. Inside is an array of wonderful regular-size products that every Philadelphia mom would love and enjoy:
• 7.5oz milk chocolate sea salt caramels
• 8oz milk chocolate nonpareils
• 8oz chocolate coconut clusters
• 6oz milk and dark regular assortment with #1 Mom card in the center
• 7.25oz gourmet truffles
• 5oz milk chocolate mother card
• 8oz bag of milk chocolate covered pretzels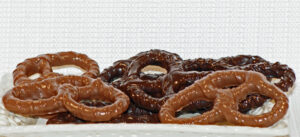 Sugar-free Treats
We all know that as sweet as moms are, they may not want to indulge in too much sugar, sometimes by choice and sometimes due to health reasons.
That said, Stutz Candy has got you covered with a wide assortment of the yummiest chocolate in Philadelphia and sugar free treats. We have beautifully packaged boxes to choose from, including 16oz and 7oz sizes, which feature an assortment of buttercreams, jellies and cherries that are sugar-free for your mom's enjoyment.
Additional Gift Options
If baskets aren't your mother's style, you can choose a gift box from our best sellers list. Here are the most popular gift boxes of chocolate in Philadelphia:
The 12- piece or 24-piece chocolate covered pretzel gift boxes
The gourmet pretzel gift box
Chocolate caramel pecan patties
Chocolate toasted coconut jumbo marshmallows
Premium gourmet pretzel gift box
Almond toffee butter crunch
Chocolate caramel cashew patties
Chocolate jumbo marshmallows
Chocolate whole almond bark
That's just the tip of the iceberg. You can find a broader range of chocolate treats on our website. Every day we strive to deliver the most delicious chocolate in Philadelphia.
Our staff are friendly and supportive and once we have compiled your order, you are notified immediately. If you are uncomfortable with going inside the store due to COVID, we offer curbside delivery. Simply park your car, call the store, and our staff will bring your order to you.
For the best candy and chocolate in Philadelphia, order online now at StutzCandy.com, or visit us in-store.  Need help deciding or have other questions? Contact us at 215-675-2632.