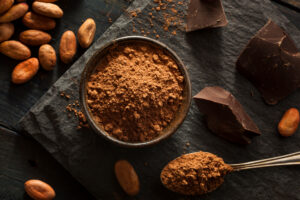 Chocolate is one of the kings of the dessert world, but there's no reason it only has to be used to make sweet things.
Watch enough cooking shows or read through a few food blogs, and you'll see that there are elegant, delicious ways to incorporate it into savory sauces, vegetable dishes and entrees.
Here are three recipes that use chocolate as a key ingredient:
Chocolate Steak Sauce
This recipe comes from Self.com, and is perfect for fans of steak and dark chocolate:
Heat two tablespoons olive oil in a skillet on medium. Sauté one cup chopped yellow onion for 2-3 minutes.
Add 3 teaspoons garlic and sauté for another minute, then add 1 cup red wine and cook until reduced by half.
Remove skillet from heat, add 1/3 cup chopped dark chocolate and a beef bouillon cube and stir until completely melted and absorbed. Add a tablespoon of sauce to each steak.
Bacon and Chocolate Wrapped Brussel Sprouts
Here's a sweet and savory take – from The Daily Meal — on a standard green veggie:
Render 10 ounces of diced smoked bacon in a large skillet until brown, then remove it with a slotted spoon and place it in a bowl.
Add 4 thinly sliced shallots and ¼ cup garlic, also sliced thinly, to the bacon fat. Cook on low heat until shallots soften.
Remove shallots, garlic and bacon fat from heat and add to ½ cup toasted bread crumbs.
Sauté two lbs. Brussel sprouts – trimmed and cut in half — with salt and pepper until caramelized. Combine sprouts, breadcrumb mixture and eight ounces dark chocolate and bake at 350F in a heat proof dish for 15 minutes.
Braised Short Ribs with Chocolate and Rosemary
If you want to do more with chocolate beyond adding it to a sauce or a side, try this main course from Epicurious:
Heat large, heavy pot on medium, then add 1 ¼ cup of chopped pancetta and sauté until crisp, then transfer pancetta to paper towels to drain.
Sprinkle 6 lbs of bone-in short ribs ribs with salt and pepper. Working in batches, brown ribs in drippings in pot over medium-high heat until brown on all sides, about 8 minutes per batch. Transfer to plate.
Add 1 ½ cups of onion, ¼ cup shallots, ¼ cup celery and ¼ carrots, all finely chopped, plus 3 cloves minced garlic to pot. Cover, reduce heat to medium, and cook until vegetables are soft, stirring occasionally, about 10 minutes.
Add 2 cups red wine. Boil uncovered until liquid is reduced by half, scraping up browned bits, about 5 minutes. Add 3 cups low-salt chicken broth, 2 cups diced tomatoes, 2 tablespoons fresh chopped parsley, a large thyme sprig, 1 bay leaf, and pancetta. Return ribs to pot, cover partially, and simmer 90 minutes. Uncover and simmer until rib meat is tender, stirring occasionally, about 90 minutes longer.
Transfer ribs to plate; discard bay leaf. Spoon fat from surface of sauce. Boil sauce until beginning to thicken, about 8 minutes. Reduce heat to medium. Add 3 tablespoons shaved bittersweet chocolate, 2 tablespoons unsweetened cocoa powder, and 1 teaspoon finely chopped rosemary; stir until chocolate melts. Season to taste with salt and pepper. Return ribs to pot. Simmer to rewarm, about 5 minutes.
After these courses, you might want dessert, but also may not be in the mood for more cooking. Let Stutz satisfy your sweet tooth, whether it's with our boxed chocolates, fudge, or a box of salt water taffy.
Bon appetit!