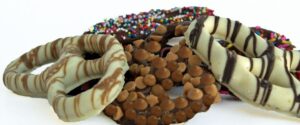 Locally-sourced food may be a popular trend these days, but it's something the Stutz Candy Company has prided itself on for decades.
Just ask Paul Bugg, our head candy maker. He's been in the business for 33 years, going back to high school when he helped a friend's mother in her fudge shop.
What he liked about that job is the same thing he likes about his current job.
"It's hands on," Bugg says. "I like making things with my hands. You get to see something versus…well…no offense to computers, but I can see what I made."
It's a Friday morning in early October. The weather still feels like summer, but Bugg is focused on Christmas, overseeing the packaging of a batch of chocolate covered-pretzels.
Chocolate-covered pretzels are a good example of the type of local delicacy Stutz is known for, and represent an interesting aspect of the candy business: what's big in one place is unknown in other parts of the country.
So while chocolate covered pretzels are huge on the east coast, Bugg says, "if you go up to Canada, you can't give them away." The same thing goes for Irish Potatoes. They're huge in Philadelphia or Pittsburgh, unheard of in the Midwest.
Working for Stutz gives him creative freedom. "I never worked for a large company and I never wanted to," Bugg says. "You're just a number."
It's also just a unique business, he says.
"Think of it this way," Bugg puts it. "How many people did you know in high school that wanted to be in the candy business?"
He's seen trends come and go, like double-dipped chocolate mints.
"We used to make 20 batches a year. Now we're down to three," Bugg says.
These days, customers seem to enjoy things that mix sweet and salty, like chocolate sea salt caramels. As a smaller company, Stutz has to "watch trends more carefully, more than the big guys," Bugg says.
Trends come and go, but Stutz has always focused on one thing for its customers, he says: "We try to package or make things they can't get anywhere else."