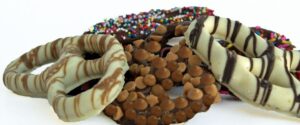 Locally-sourced food may be a popular trend these days, but it's something the Stutz Candy Company has prided itself on for decades.
Just ask Paul Bugg, our head candy maker. He's been in the business for 33 years, going back to high school when he helped a friend's mother in her fudge shop.
What he liked about that job is the same thing he likes about his current job.
"It's hands on," Bugg says. "I like making things with my hands. You get to see something versus…well…no offense to computers, but I can see what I made."
Continue reading What's Handmade Got to Do with It? →