Jelly beans are a popular candy that's enjoyed throughout the year, but demand for them soars around Easter. They're the second most popular Easter treat, according to the folks lucky enough to work at the National Confectioners Association. In fact, 20% of Americans name these goodies as their favorite Easter treat, trailing only chocolate eggs/bunnies.  But what do bean-shaped candies have to do with Easter? Keep reading to find out!

Turkish Delights + Jordan Almonds = Jelly Beans
They're believed to be a combination of two older yet still popular candies – Turkish delight and Jordan almonds. Turkish delight are morsels of soft candy that contain, among other ingredients, dried fruits or nuts according to taste. They have a powdery sugar coating and gradually melt in your mouth as their delicious flavors are released. Jordan almonds, which you'll find as favors at many weddings, are almonds that are coated in a colorful and crunchy sugar shell. Marry the two treats, and the result is the jelly bean.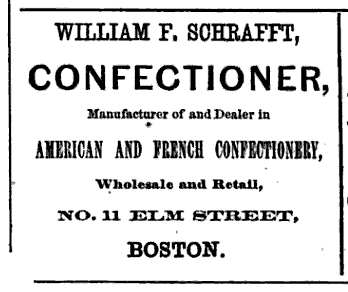 Smart Marketing for a Popular Penny Candy
The exact "birth" of these sweet treats isn't known, but by the late 1800s, Boston confectioner William Schrafft was making them and placing ads encouraging Americans to send them to Civil War soldiers. It was a marketing ploy, of course, but who wouldn't like receiving a package of sweets as you endured tough conditions? And the sweets have the added advantage of not sticking together or easily melting, so they'd be easy to ship.
They became popular as penny candies in the late 1800s and early 1900s, and by 1905, the word "jelly bean" could be found in Webster's dictionary. In that same year, the Chicago Daily News ran ads featuring the candy for 9 cents a pound. They were frequently found for sale in glass jars, and you could take your haul home in a paper bag.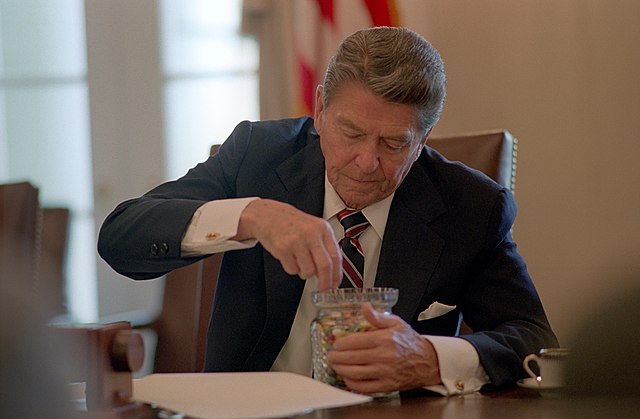 More Flavors and the Backing of a President
Since then, these egg-shaped treats have received several boosts in popularity. The number of available flavors has expanded to include creative flavors like buttered popcorn and even some that are deliberately disgusting, like dirt. And when future President Ronald Reagan declared himself to be a fan of the sweet treats, saying they helped him give up smoking, they received another boost.
President Reagan reportedly kept a jar of the candies on his desk at the White House, and he received a large glass container filled with red, white, and blue ones when he declared his love for the candy. His favorite flavor? The black licorice-flavored ones, which people tend to have strong feelings about either way.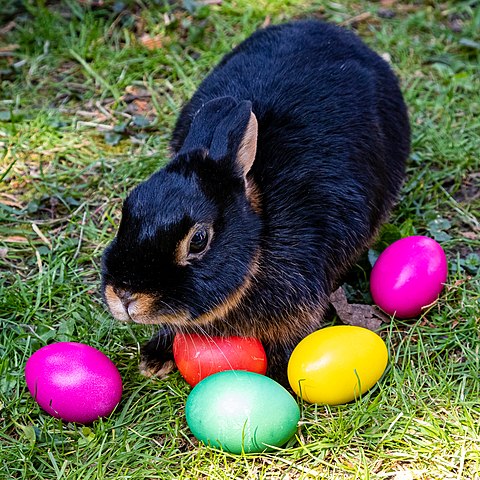 Jelly Beans and Easter
Around the time of World War 1, which started in 1914, it was suggested that Americans use these goodies along with their traditional colored Easter eggs to celebrate the holiday. Eggs were harder to get in World War 1, so the idea of making them stretch further by mixing them with candies made sense. And since these sweets are not only are bean-shaped but also egg-shaped, the suggestion caught on. Several sources place this association as occurring in the 1930s.
Food historian Beth Forrest told Better Homes & Gardens that this candy can be easily tied to Easter because of 3 things: shape, color, and pleasure. They're egg-shaped, their color looks like those of decorated eggs, and sweet treats can be popular toward the end of Lent. As some people choose to give up sweets for Lent, they might be ready to indulge in some jelly beans just before and on Easter.
There's no doubting the strong association of jelly beans and Easter today. Over 16 million of the candies are made in the U.S. for Easter each year, according to the National Confectioners Association. That could fill a giant egg that's 80 feet tall and 60 feet wide.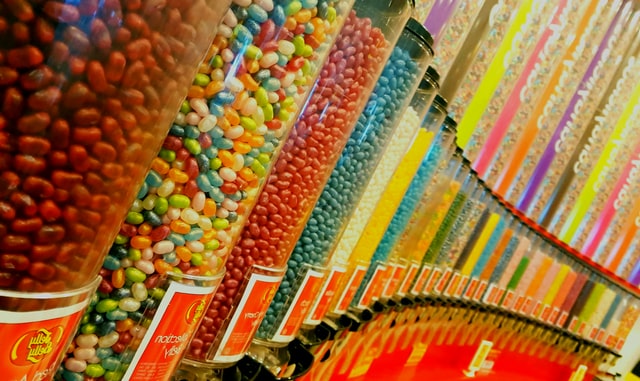 Choosing the Best Quality Easter Candy
When you're ready to pick out your Easter treats, Stutz Candy has what you need, and we've been supplying customers with quality candy, chocolate, and gifts since 1938. Order a variety of the best jelly beans around in assorted colors and flavors – choosing from regular or spiced – in a pound container or 8-oz. bag. Or choose from among the same size containers of black licorice jelly beans.
If you'd like to mix and match your Easter confections or try something different, we also offer malted milk spotted eggs and decorated eggs with your choice of delicious fillings including buttercream and coconut cream, as well as solid chocolate molds for baskets, hollow and solid chocolate rabbits and more. Whatever your preference, we've got Easter treats you can't beat!