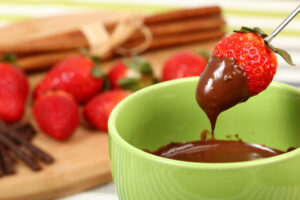 Christmas and New Year's Eve have come and gone, and the start of spring seems like a few years – and not just a few weeks – away.
This is a time of year where you're tempted to simply hole up and hibernate until it's warm.
But we'd like to suggest that one of the best ways to combat the winter doldrums is to socialize. And because Stutz is a company that makes chocolate, we're going to recommend you socialize with a chocolate fondue party. There's nothing quite like a sweet dessert made of rich, warm chocolate on a bitter winter night.
Continue reading Winter Doldrums? Enter Chocolate Fondue! →