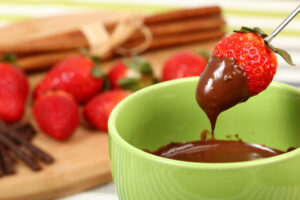 Christmas and New Year's Eve have come and gone, and the start of spring seems like a few years – and not just a few weeks – away.
This is a time of year where you're tempted to simply hole up and hibernate until it's warm.
But we'd like to suggest that one of the best ways to combat the winter doldrums is to socialize. And because Stutz is a company that makes chocolate, we're going to recommend you socialize with a chocolate fondue party. There's nothing quite like a sweet dessert made of rich, warm chocolate on a bitter winter night.
Try this easy recipe, courtesy of The Food Network's Alex Guarnaschelli, if you're planning on introducing your friends and family to the magic of chocolate fondue.
Make your chocolate sauce
We start with these ingredients:
½ cup of heavy cream
Two tablespoons of sugar
1 teaspoon of ground cinnamon
1 tablespoon of unsalted butter
4 ounces of semi-sweet chocolate
2 teaspoons of dark rum
1/8 teaspoon of grated orange zest
Bring the cream, sugar, cinnamon and butter to a rolling boil in a medium saucepan on low heat. Remove from the heat, add the chocolate and stir until it melts, then add the rum and orange zest before serving.
Choose what gets dipped
You have your warm chocolate sauce, but what will you dip into it? Here's what Guarnaschelli's recipe calls for:
1 pint of fresh strawberries, washed, dried and hulled
1 pint fresh raspberries
2 bananas, peeled and cut into 2 to 2 ½ inch slices
12 ounces of thick, salted pretzels
4 ounces of dried apricots
6 ounces of salted, roasted almonds
We've seen other recipes suggest cubes of angel food cake or pound cake, biscotti, sliced apples and sliced peaches, marshmallows or graham crackers.
If you still want chocolate after all that, Stutz can fill your cravings with our delightful selection of fudge, boxed chocolates and other specialties. Take a bite, close your eyes, and think of spring.