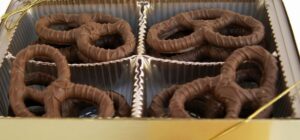 You've probably heard the song "The 12 Days of Christmas," but have you ever wondered how much you'd need to spend to buy all of those gifts?
PNC Wealth Management has. Since 1984, the bank has maintained The Christmas Price Index, which tracks the real world cost of everything mentioned in the song. This year, it was $34,130, or $155,407 if you assume the "true love" in the song was rebuying all the previous day's gifts after the first day.
Your holiday budget is probably somewhat less than $34,000, which is why Stutz Candy is happy to recommend its own list of gifts for the next 12 days. (We realize the song is about the period after Christmas, but we have your shopping schedule to consider.)
We'll add a new product every day – trying to keep with the number theme of the song whenever possible –so be sure to check back in again over the next two weeks. Enjoy!
1. A single tray chocolate pretzel gift box
If we're going by the premise that the gift-giver in the "12 Days of Christmas" song was
repeating the gifts, then this is one we'd want every day.
(And even though it's a single tray, you don't have to get just one box.) The boxes come in milk and dark chocolate. Enjoy!
2. Two personalized chocolate molds
Many of our chocolate molds come two-to-a-pack, and cover a variety of themes, including football, golf, swimming, computers, and music. There's enough space on them to include a message to whoever's getting these tasty gifts.
3. A triple "C" combo
These three Cs are chocolate, caramel and cashews, a family recipe in a chewy, delectable patty. A lot easier and cheaper than three French hens.
4. Four kinds of chocolate
Forrest Gump said "you never know what you're gonna get" with a box of chocolates, but we'll narrow it down a little: Caramels, mint creams, jellies and sponges are the four "families" you'll find in this box of assorted milks and darks chocolates, a smaller sampling of our regular one-pound assortment.
5. Five kinds of fudge
Let's repeat that so you can sing it to the tune of "Five golden rings": Fiiiiiive kinds of fudge. In the summer, we up our production to include 10 varieties of fudge, but at the holidays, you can still get five delicious flavors. There's dark chocolate, dark chocolate nut, raspberry chocolate, vanilla and vanilla nut, all made the same way we've been making fudge since the 1930s.
6. Six types of mixed nuts
Our roasted mixed nuts packages include Brazil nuts, English walnuts, pecans, cashews, filberts and almonds. You can get them salted or unsalted.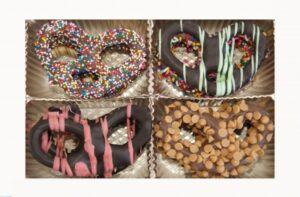 7. Seven kinds of gourmet pretzel
Our single tray gourmet pretzel gift box features seven varieties: dark chocolate raspberry striped, dark chocolate mint striped, milk chocolate with jimmies, milk chocolate with nonpareil seed, milk chocolate with peanut butter chips, white with milk chocolate stripes and white with peanut butter stripes.
8. Eight gourmet truffles
Inside our boxes of gorgeous gourmet truffles, you'll find eight amazing flavors: raspberry, chocolate, rum, amaretto, champagne, hazelnut, Irish cream and tiramisu. These candies come in milk, dark and white chocolate.
9. Nine flavors of taffy
Take a break from chocolate and give yourself – or someone you love – a taste of summer with our salt water taffy, an assortment of nine flavors from either the James or Frailinger brand.
10. Ten large half-coated milk bones
Don't forget your pets when shopping this season. Pick up these 10 individually-wrapped half-coated milk bones. (And don't worry, these are a non-chocolate product.)
11. Eleven – or as many as you want – chocolate marshmallows
We have to cheat with this one. They don't come 11 to a box, or feature 11 flavors. But they are a treat for fans of creamy milk and dark chocolates, toasted coconut and marshmallow.
12. Twelve peanut butter cups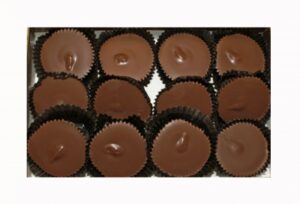 We'll close with a classic treat: irresistible peanut butter coated in either milk or dark chocolate. These peanut butter cups will make a great gift or a snack for a holiday party.
We hope this guide helps you find just the right gift for you, your family or your "true love." Have a safe and happy holiday!