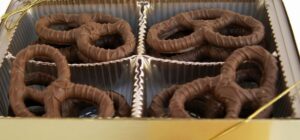 You've probably heard the song "The 12 Days of Christmas," but have you ever wondered how much you'd need to spend to buy all of those gifts?
PNC Wealth Management has. Since 1984, the bank has maintained The Christmas Price Index, which tracks the real world cost of everything mentioned in the song. This year, it was $34,130, or $155,407 if you assume the "true love" in the song was rebuying all the previous day's gifts after the first day.
Your holiday budget is probably somewhat less than $34,000, which is why Stutz Candy is happy to recommend its own list of gifts for the next 12 days. (We realize the song is about the period after Christmas, but we have your shopping schedule to consider.)
We'll add a new product every day – trying to keep with the number theme of the song whenever possible –so be sure to check back in again over the next two weeks. Enjoy!
Continue reading 12 Chocolate Treats for 12 Days of Christmas →