In Addition to Elegantly Displaying the Decadent Chocolates and Treats That Local Shoppers Have Loved Since 1940, our website will now allow visitors around The United States to be able to purchase Stutz Candies online.
Stutz Candy Company is a legendary confectioner known for the creation of an array of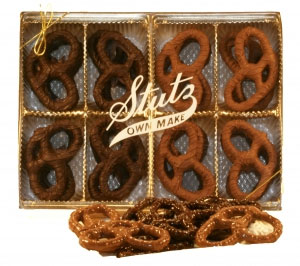 store-made chocolates, fudge, nut confections and nonpareils since 1940, Stutz boasts a worldwide clientele and is an irreplaceable tradition for their Christmas, Easter, Valentines creations, as well as their "everyday" smooth, rich, delicious chocolate. The store itself is a piece of Americana with pitch perfect vintage signage and an overwhelming display counter.
With locations in PA and NJ, our retail candy shops specialize in store-made chocolate, fudge, saltwater taffy, nuts, chews, and seasonal holiday treats. We offer delivery and shipping throughout the U.S. and sell a wide assortment of cards, scented candles and other gift items.
Now, for the first time in our over 70-year history, we will have a beautiful website featuring a wide array of delicacies and gifts. Convenient and easy to navigate, our new website allows customers to shop for and order Stutz' yummy treats, as well as gifts and corporate giving items, 24/7, and have them shipped to their home or place of business.
The timing of the launch of our new website could not be more advantageous to customers in need of gifts for the holiday season. Stutz Candies are a holiday tradition, and are available preassembled beautifully into Gift Towers through the new website. Gifts suitable for corporate giving are also available