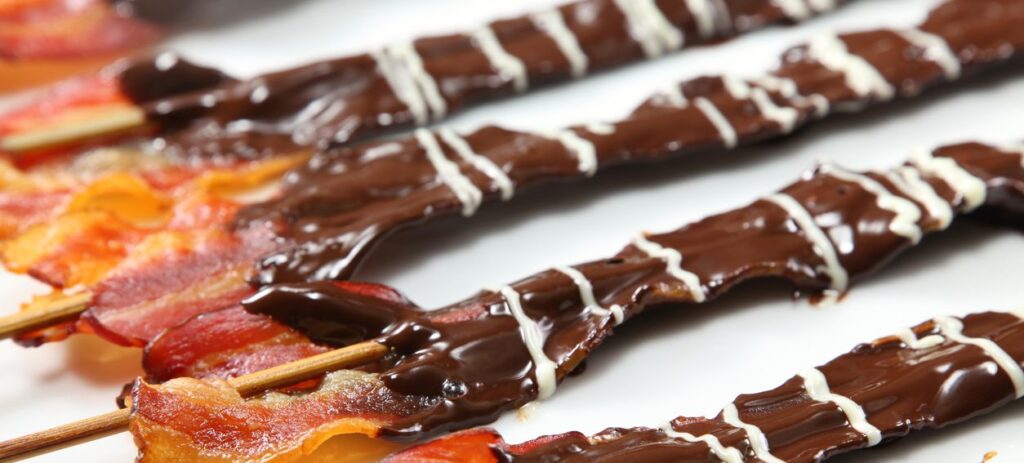 Mushrooms are a pretty amazing food. People enjoy them on pizza. If you're a vegetarian, they're a great – and delicious – source of protein.
And recently, people have become pairing them with…chocolate.
That's according to a Pinterest study, cited by USA Today earlier this month which reports an uptick in searches for mushroom chocolate bars and mushroom chocolate milk.
Mushrooms are certainly tasty and versatile, but do they really pair well with chocolate?
Honestly, who are we to judge? There was a time when some of our most popular Bucks County milk chocolate offerings such as chocolate-covered pretzels or chocolate with peanut butter might have seemed weird.
Still, the mushroom chocolate story got us thinking about other unusual chocolate pairings. If you're feeling adventurous, you might want to give a few of them a try.
1. Chocolate-covered sun-dried tomatoes
We found this recipe on a blog called The Cereal Baker, who published it in 2012. It was a fairly simple recipe: cover the tomatoes in melted chocolate bark, then let them chill in the refrigerator.
"I don't know if I can describe the flavor exactly, but I know it wasn't like 'Ew, this tastes like a chocolate-covered tomato,'" writes The Cereal Baker. "So I consider it a success!"
2. Flowers + Candy < Candied Flowers
Chocolate and roses are among the most popular Valentine's Day gifts, and somewhere along the line, someone decided to combine the two…literally.
It makes sense: roses are edible flowers, with petals that often find their way into desserts. As with the tomatoes, all you'll need to do is dip the roses into melted chocolate. Just be sure to rinse off and thoroughly dry the flowers before dipping.
3. Two American favorites together
Americans love chocolate. Americans love – and "love" might not even be a strong enough word here – bacon. So it was only a matter of time before chocolate-covered bacon began showing up at state fairs, novelty shops and more adventurous restaurants around the country.
It makes sense. Bacon is above all else a very salty food, and we know that chocolate and salt pair well together, whether it's chocolate-covered potato chips (more on that further down the list) or one of our own offerings: sea salt, caramel and Bucks County milk chocolate.
4. Chocolate kale chips
Chocolate covered potato chips have been popular for a few years now, so why not a chocolatized version of the potato chip's healthier cousin, the kale chip?
5. Chocolate-dipped chickpeas
When you think of chickpeas, you're not thinking about dessert. After all, these little legumes are at worst a reliable source of protein, or at best the making of a delicious hummus.
But roast a few chickpeas with cinnamon, vanilla and maple syrup and dip them in chocolate, and you have a healthy, sweet snack.
6. Red hot chocolate peppers
Are you bored with chocolate-covered strawberries and bananas?  Try this popular country fair treat, which adds the sweetness you'd find in Bucks County milk chocolate with the heat you get from a chili pepper. (We're not sure how anyone could be bored with chocolates and strawberries, but to each their own.)
If none of these things sound appealing, that's OK. Some folks like their chocolate the old fashioned way. And that's what's worked for us for more than 80 years.
Whether it's fudge, chocolate-covered pretzels or assorted dark or milk chocolate, Bucks County residents know they can rely on Stutz for a host of sweet treats. Just don't look to us for chocolate covered tomatoes…at least not yet.