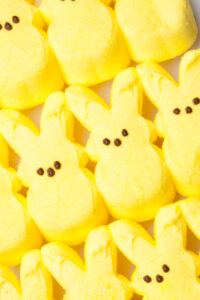 Tips for Building an Easter Basket
Easter is just days away, and you're probably thinking about filling your child's Easter basket.
For us, the answer is always obvious: chocolate, as well as assorted other candies.
But if you're feeling a little more inventive this year, there are a few tips we've collected from around the web.
Hopefully, they'll give you some inspiration as you build your Easter baskets this year. Good luck!
A Mason jar basket
This is simple: fill a Mason jar with chocolate eggs, jelly beans, or small toys, then add a trim to the top: Easter grass or some paper fringe.
An edible terrarium
Another Mason jar idea: fill the jar with chocolate rocks, edible candy grass, candy eggs and marshmallow bunnies. Tie them off with ribbons and gift tags.
A takeout Easter
This one is for older kids, and will require a trip to a restaurant supply store. Get some spring-colored takeout boxes, and decorate them with white stickers to create polka dots. You can fill them with candy, but if you feel like going even further, dip some fortune cookies into some colorful melted chocolate, let them dry, and add them to the box.
A basket you can eat
Rice Krispie squares are easy to make, so why not get a little creative with them. Make the mixture the way you normally would, adding a few colorful sprinkles if you choose. Press the warm mixture against the inside of some cereal bowls covered in wax paper. Once they cool and harden, remove the Rice Krispie bowls from the cereal bowls, and you have the basis for an edible Easter basket. Add some edible grass and some marshmallow chicks and bunnies.
A glittered fruit box
Consider this idea if you'd rather not give your kids a giant Easter basket. Start with a berry box – the cardboard kind that strawberries and blueberries come in – and apply an all-in-one glue along the top edges, and sprinkle some glitter on top. Shake the box to get rid of excess glitter, and then let it dry. Add Easter grass to finish.
An egg carton Easter basket
12 empty spaces, 12 places to put little treats. Take an old egg carton and put candy in each cup. You can even put plastic eggs in the spaces for an extra level of surprise.
Let Stutz make this Easter a little sweeter
Whether you decide to be artistic this Easter, or simply use the same baskets as last year, you'll still need things to put in your baskets.
Stutz carries a large variety of Easter candy, from decorated eggs filled with peanut butter, coconut cream or buttercream to chocolate molds to jelly beans to assorted Gummi candies. Once you know what this year's basket will look like, let us help you fill it.