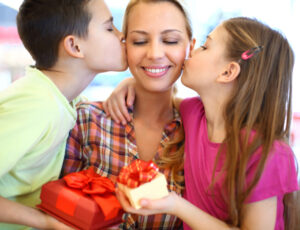 We've been honoring our moms for centuries. The ancient Greeks and Romans held celebrations in praise of the mother goddesses Rhea and Cybele.
People in Europe used to observe something called "Mothering Sunday," a day of appreciation for mothers that grew out of an early Christian tradition. Mothering Sunday eventually began to merge with the American Mother's Day in the 1930s and 1940s.
(As we noted in last year's Mother's Day blog, it was Philadelphia's Anna Jarvis, who sparked the idea for the American version of the holiday in 1908.)
It's a big day. Mother's Day — which falls on May 8 this year — is typically the busiest restaurant day of the year, and the day on which the most phone calls are made.
And while it's nice to take your mom out to dinner (or at the very least, give her a call), we'd like to offer a few other ways to celebrate your mother this Mother's Day.
Enjoy the great outdoors
Assuming the weather's nice on May 8th, get the family together and take your mom on a hike, visit your local park, or take a scenic drive.
Plant a garden
It's one thing to give your mom flowers. Planting some flowers – or a tree, or any other kind of a plant – is a gift that will last.
Serve her brunch
If you're a spouse at home with small children, organize a surprise breakfast in bed for mom. Older kids may want to treat mom to a special Mother's Day brunch, but be warned: the restaurant WILL be crowded, so make reservations early.
Give mom some time
It's her day, so let mom set the agenda. Maybe she just wants to read, or work on crafts, or sleep in. Everyone else can pitch in on whatever household duties she'd normally handle.
Give her a spa day
This one is an extension of the last entry. There's relaxing, and then there's relaxing somewhere she'll be pampered by experts in pampering.
Enjoy some family time
Maybe your family is normally too busy for everyone to get together. This year, make the effort to gather as many of you as you can, whether it's for dinner, a picnic, an outing, or a family game night.
Throw a party
Mother's Day is a day to celebrate moms, so why not have an actual celebration? Just don't do it at her house…unless you plan to stay and help clean up.
Walk down memory lane
Spend some time with your mom by going through old family photo albums and scrapbooks, or start working on a new scrapbook. The finished product could be next year's Mother's Day gift.
Take a trip
It could be a daytrip, a weekend getaway or a longer vacation. Treating mom to a trip with her kids will make this Mother's Day a memorable one.
Give the gift of chocolate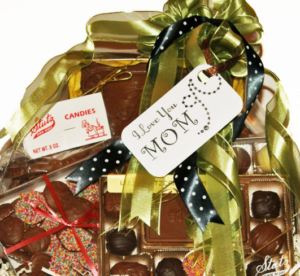 And lastly, you can give your mom some chocolate. It can even be part of some of these other gifts: "Here mom, we got you a day at the spa, and these chocolates!" Chocolate is delicious, it improves our mood, and it even has some practical health benefits.
If you're not sure what kind of chocolate to choose, check with Stutz. We've made things easy for you on Mother's Day with our Mom Gift Basket, featuring chocolate sea salt caramels, chocolate nonpareils, chocolate coconut clusters, gourmet truffles and chocolate-covered pretzels.
We also carry boxed chocolates, fudge, salt water taffy and other candies. Visit our website today, and we can help you start a new Mother's Day tradition for your mom.