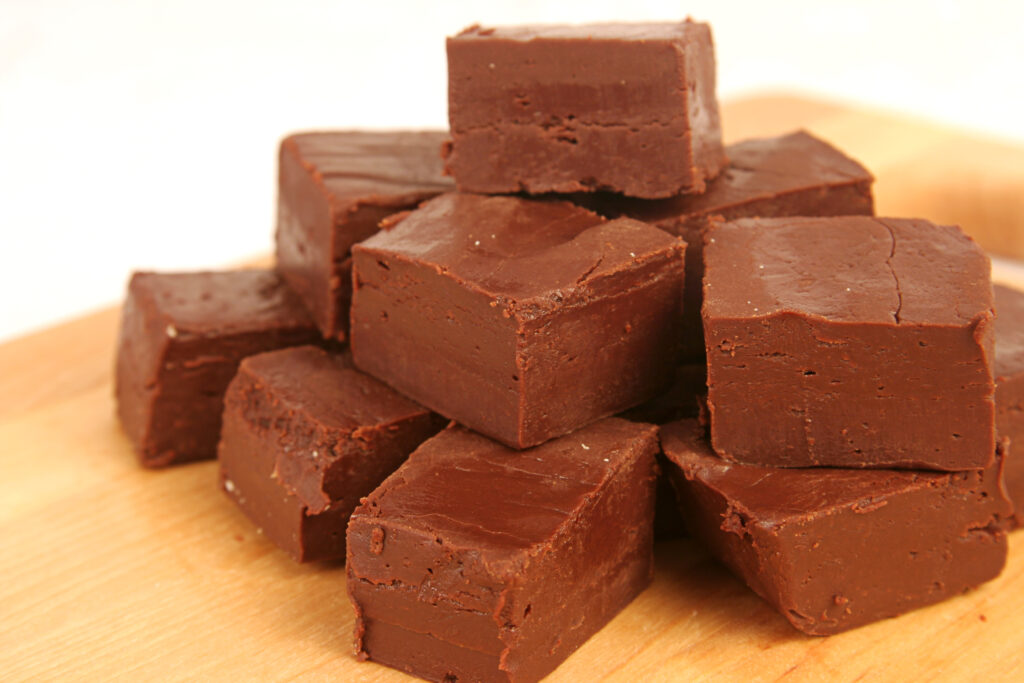 Fudge is one of the most popular candies throughout the world. You'll also find fudge along with the typical glut of sweets, biscuits, chocolate other candies at any given shop. Despite this popularity, many people don't know how fudge in Bucks County became a staple confection. 
Similarly, fudge is surprisingly mysterious since no one can point out who invented it, or when exactly it got invented. The oft-repeated tale is that fudge came by as a mistake. Indeed, that has turned out to be a pleasant mistake!
Getting Back to the Origins
Although the origin and history of fudge before 1886 remains hazy, it's believed to be an American invention. The first batch resulted from an accidental (fudged) overcooking of caramel. In 1886, this confection was sold for the first time at a grocery store in Baltimore for 40 cents per pound.
The recipe became popular in 1888 during the Vassar Senior Auction after a Miss Hartridge made 40 pounds of fudge for sale during the event. Soon after, fudge became a fab in colleges that tried to develop unique recipes for the confection. By the 1890s, fudge shops began to spring up in different American towns, including Atlantic City, Mackinac Island, and Niagara Falls.
What Makes Fudge Popular?
Initially, the confection was mainly seen as an indulgent treat for college students. With time, tourists joined the fray since they saw it as the perfect sweet souvenir to take with them back home across the Atlantic. This is what led to the global popularity of the confection.
As the name suggests, fudge is an amalgamation of different flavors and ingredients such as caramel, nuts, fruits, chocolate, and sweets. This creates a novel flavor that you won't find in other confectionaries. The intoxicating taste of all the flavors and ingredients in fudge makes it appealing to both the young and old. Eating fudge in Bucks County provides the happy rush of eating a sweet, filling candy and the entertainment of sampling a new confection.
Is Fudge an Ideal Gifting Item?
Everyone loves fudge, and no matter the situation, a gift of fudge will always get appreciated. This confection has the unique ability to leave people smiling. And, there's no better way of leaving a smile on your loved ones' faces than gifting them a beautifully packaged piece of fudge from Stutz Candy. Here are some of the occasions where fudge makes the perfect gift:
Birthdays
Giving fudge to friends and family members during their birthdays can be a magnificent gifting tradition. If you're stuck on finding an ideal birthday for someone who's hard to please, look no further than fudge. Its intriguing and unusual flavors will stun their taste buds and make their special occasion even more memorable.
Holidays
Sweet treats have characterized major holidays

for centuries. By buying

fudge in Bucks County

for your loved ones during the holiday season, you'll show just how much you value them!
Anniversaries
These are some of the special occasions

that break the monotony of everyday life. During this special time, a special gift such as a pack of fudge will do the trick.
Thank You Gifts
If someone shows you a kind gesture, there's no better way of expressing your gratitude than gifting him/her with a fudge box. Undoubtedly, that person will be delighted to receive such a delightful thank you gift.
The Stutz Candy Story
Stutz Candy has established itself as the number one manufacturer and retailer of fudge in Bucks County. Since starting out in Pennsylvania in the 1930s, the company has endeavored to adhere to its original recipes. The founders, Joe and Mary Stutz, started the company in their garage, but by 1938, they had set up a factory and the first retail store.
Although the company's ownership changed hands a few years later, the new owners still maintained the original recipes and the old-fashioned way of making fudge. This explains why Stutz Candy has held its position as one of the leading players in the confectionery industry.
Stutz Candy's Fudge Offering
Stutz Candy boasts a flexible fudge production line. The company makes and sells four fudge flavors all year round. However, in summer, production always gets ramped up to at least ten unique flavors. Some of the popular Stutz Candy fudge flavors include Chocolate, Chocolate Walnut, Chocolate Marshmallow, Chocolate Peanut Butter, M&M Vanilla, Rocky Road, Sea Salt Caramel, Vanilla, and Vanilla Walnut.
Although fudge was created by accident, Stutz Candy does all it takes to make and sell fascinating flavors that leave your taste buds wanting more. You'll find all of the above-mentioned fudge flavors and much more sweet treats at the company's online store and its shops in Bucks, Ocean, and Montgomery Counties. Therefore, if you're looking for a sweet treat for any occasion, do not hesitate to sample Stutz Candy's fudges.